Welcome to EphodConsulting.com! We are one of Singapore's and Asia Pacific's most sought after and effective training and consulting firms.
Till date, we have trained over 100 corporate and government agencies and companies, both locally and internationally! More than 100,000 managers and executives from over 60 different nations! With over 11 years of experience and satisfied customers with specific training and consulting needs met!
We specialize in bringing organizational change to your company. We have a vast variety of specially tailored programs that will suit the needs of every company for staff development in this 21st century world market. We pride ourselves in having the most qualified trainers and senior consultants conducting each course to bring about the most enriching learning experience for you and your company. We firmly believe that you can, and will succeed and be empowered as you learn the secrets and wisdom in each program.
Our Training Methodology
Ephod adopts a 4-steps approach to ensure customer satisfaction: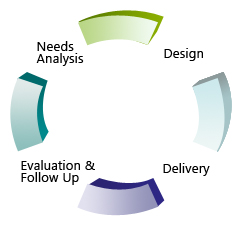 We conduct a client-specific needs analysis instead of offering a generic programme. Meeting client's needs and expectation is paramount in our consideration. Call us for a FREE training needs analysis of your organization's needs today.
All Ephod courses are designed with the client's needs and audience in mind to ensure effectiveness.
All trainings are delivered by professional consultants who have had many years of management experience.
4) Evaluation and Follow-up
We measure all our workshops to ensure that they meet the clients' needs and add value to the clients organization in terms of competency as well as return on investments.
Contact us now
with your needs and we will be glad to see how we can help to get you the results.